---

Never Tangle Bungee Inventor Knows The Ropes
by Jeff Thomas
Even in tech-happy Boulder County, investment opportunities sometimes don't require teams of highly talented and compensated software engineers or tens of millions of dollars to get through an initial proof of product.
"This company is teed up and ready to go," said Paul Cornay, inventor of the Never Tangle bungee cord. Cornay's career includes creating and marketing products such as industrial centrifuges and constant-velocity universal joints, but he believes this one will be an instant hit with consumers: a newly patented interlocking hook technology for bungee cords that eliminates entanglement and enables end-to-end extension.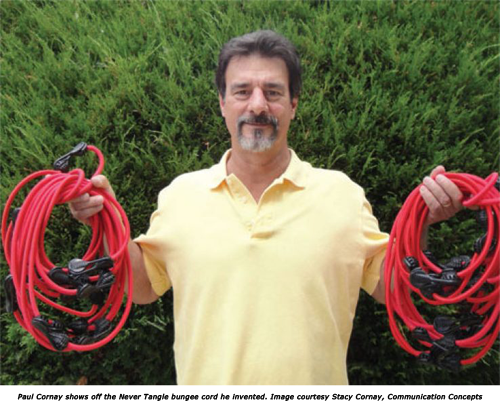 "I've always wanted to do a consumer product," Cornay said. "I wanted it to be simple, and manufacturable in the U.S. — more particularly, manufacturable in Colorado."
Most of the common-use bungees come with open hooks, which is how they get tangled up if you store a bunch together. Hooking them together to use as a longer bungee often is a bad idea, Cornay said, as they easily come apart.
Gated hooks — or carabiner style — are difficult to use, he said, because the springed-catch gate is in the way of hooking it directly to something. They also are a little more expensive and hard to piece together when the bungee is under tension.
Cornay's patented system, which he also believes will work on flat straps, has a groove on the back of each hook allowing them to snap together. The snaps not only make the bungees easy to store and access, he said, but also make for very strong strings of bungees locked together.
"I've a been a sportsman all my life — I hunt and fish and climb — and I've used bungees all my life," said Cornay about his product's invention. "If you try to bring a bunch on a trip, they are always hooked together. I just set out to solve that problem, and I was fortunate to find there is nothing like this out there in this space."
The product also fits Northern Colorado, which has many of the injection-molding shops Never Tangle would employ to make the snapped hooks. Cornay said the hooks will contain a wire that will attach them to bungee cords the company will purchase, essentially, off the shelf.
"Right now we're looking at bringing in money to help us to do the tooling we will need for high-volume production," he said. "There is no reason this company can't be launched and supported right here in Colorado."
Cornay said the company has been doing market and production-cost analysis for more than three years, including getting feedback from retail outlets. He believes the final consumer cost will fit easily between the cost of the traditional hooked and carabiner-style bungee cords.
"Essentially, we're going to market in three ways," he said –— Direct to consumers through nevertangle.com's webstore, through major retailers such as hardware and sporting-goods stores, and industrial distributors.
Cornay also has attracted some heavy hitters to his board of directors, including Margaret "Meg" Hansson, president and chief executive of adrop LLC, a water purification company she founded in 1992. Hansson also was co-inventor of the Gerry Baby Carrier and founded Gerry Baby Products.
Board member Ken Camarco said he has known Cornay for more than 20 years, and worked with him to bring some of his more technological inventions to market. A veteran entrepreneurial executive from New Jersey, Camarco most recently was senior vice president for global operations and business systems at Pall Corp., a supplier of filtration, separations and purification products with approximately $3 billion in annual revenues.
"We worked on a lot of complex things that take a long time to get to market. This is simpler and easier to wrap your head around," Camarco said. "I think he's right on the money with this; it's pretty simple, useful and innovative."
Camarco said the board is extremely interested in finding a single investor, who has a profound interest in the product.
"The nice thing about this is it isn't an expensive proposition. All the technology is proven," he said. "It's really the investment for the high-volume production. The market part of it is setting up pretty good."